Is a Career
in Private Service
Right for You?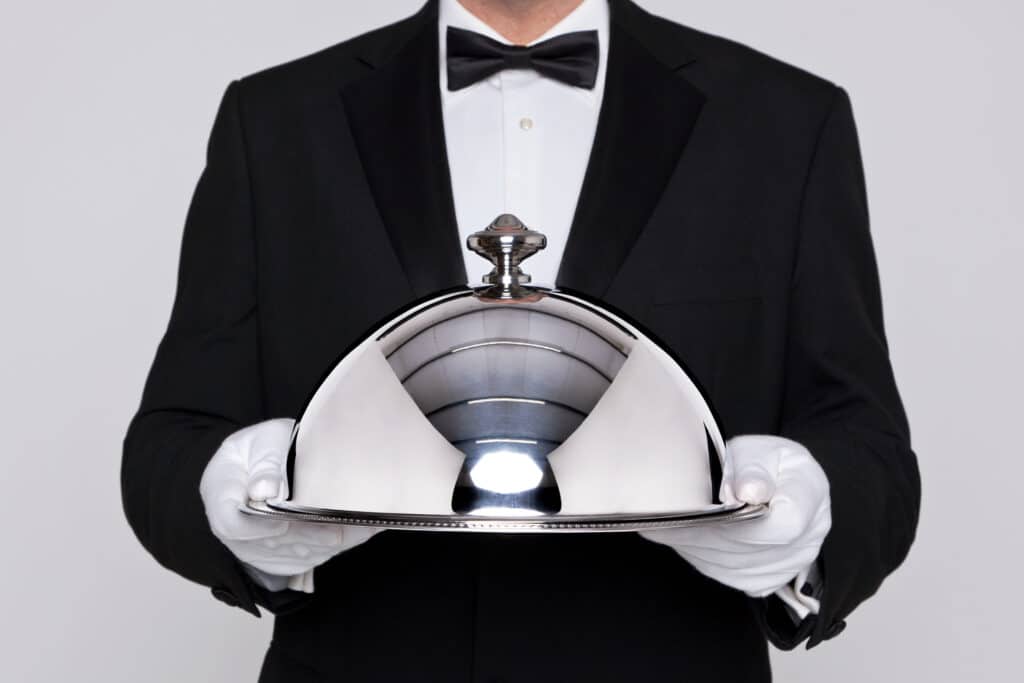 Careers in Private Service can be very rewarding. However, they are less glamorous and easy than one might believe. The entertainment industry has created stereotypes that simply don't exist. Mr. French was more than a trusted confidant, keeper of secrets, and all-seeing butler. And Miranda Priestly's demanding and demoralizing work culture is not the norm with most principals. Good, mediocre, and bad employers, supervisors, and staff are found in every industry.
Private Service revolves around relationships. Taking on a new role in this industry is often compared to getting married after only a few dates. The schedule, duties, expectations, and compensation may be easy to describe, but the culture, attitudes, and working relationships between the principal and their staff make or breaks the development of healthy boundaries, trust, longevity, and loyalty. If you think Private Service might be for you, Forbes lays out What It Takes To Work For The Super Rich.
The skills needed to land a great job and grow a career in the Private Service industry can vary by position, experience, and level of service. This Code of Ethics is a great place to start, but these are the basics:
Integrity
Confidentiality
Service Heart
Lawful and Moral Behavior
Dedication

Respect

Communication
Follow-through
Flexibility
Transitional Jobs into the industry
Many individuals working as private service professionals never intended to find themselves in the industry. It is not uncommon for an entry-level job during college to lead to a new career path. Common transitional roles include babysitter, housekeeper, catering staff, chauffeur, restaurant server, bartender, and concierge. Sometimes these roles are sought by the employee; other times, a client sees a strength or trait and offers an opportunity to transition to a private service role within their residential staff.
Entry roles (i.e., nanny, housekeeper, assistant) are just that, a job to get your feet wet and assess your future interest in that role. Maybe you love the duties but dislike your employer. Perhaps you dislike the duties but love the culture of working outside of the corporate world. Duties are often basic and repetitive, with minimal authority. 
Career roles are held by people who have decided to plant their flag and continue to work in that role. They seek similar roles when finding a new job but may choose a new city, culture, or schedule. Duties are somewhat detailed and repetitive, with little authority and minimal autonomy. 
Professional roles are held by those who continuously incorporate education into their career path. Education takes many forms, including degrees from universities and colleges and certificates from trade schools, tech programs, and online or in-person courses. With every new opportunity, they seek to build their skills as they transition to more demanding roles. Duties are very detailed and seldom repetitive, with much authority and autonomy. 
Less than 20% of Private Service Professionals (PSPs) are estimated to be formally trained to do their work. While formal education has never been an industry requirement, foundational and continuing education are strongly recommended, encouraged, and beneficial in climbing the "domestic ladder." 
Educational options for private service professionals can be difficult to compare and assess. Most educators provide students with a certificate upon successful completion of their course. However, outside the specialties of Chef, Nanny, and Newborn Care roles, there is no governing body to certify, regulate, or oversee the depth and breadth of the lessons offered. The consequences of this regulatory gap leave students and those hiring PSPs confused about the actual value of earned certificates. Courses aimed at Private Service Professionals generally fall into one of two categories: 
Foundational Education: courses that take several weeks or months to complete.
Continuing Education: courses that take a few hours to several days to complete.
At this time, there is no university degree in Private Service. However, some colleges and universities with Individual Studies departments and a strong Hospitality tract may allow a student to curate a degree plan, should a proper proctor be available. 
Students seeking to further their education in Private Service should compare current institutions, educators, prices, lesson plans, reputation, and accommodations. Speak with graduates, mentors, peers, career coaches, or a trusted Domestic Placement Agent to assess anticipated outcomes and career advantages of programs of interest. 
Thanks to tv shows, movies, and books, the titles assigned to private service roles seldom depict the depth and breadth associated with today's staff. Butlers do more than open the door to guests and deliver a newspaper on a silver tray. And assistants rarely (if ever!) find time to file their nails while chatting on the phone, awaiting the next crisis to develop. However, someone who cooks and manages one home may be a household manager who happens to love to cook, or a Chef/ Household Manager. Someone who is a nanny to teens and personal assistant to the adults may be called a Family Assistant. 
See Who's Who in the House for general descriptions, duties, experience, benefits, and compensation. 
Duties assigned to industry titles can vary significantly from one estate to another. Variables can be classified by the formality of service standards, technologies used in daily operations, inherited vs. self-made wealth, an industry that fuels wealth (banking, tech, entertainment, etc.), entertaining/guest schedules, political bent, age and lifestyle (young and single, married, young children, empty nest, retired, or elderly), and the principal's passions or hobbies (cars, yacht/sailing, wine, cigars, golf, tennis, etcetera). 
For example, a child in the family may discover a passion for tennis. This newfound passion would likely task the executive staff with sourcing and oversight of new grass or clay courts; hiring a groundskeeper with specific maintenance experience on such courts; hiring, relocating, and overseeing a tennis pro as a private coach; hiring and relocating a "sports-nanny" to supervise the child's physical needs and travel schedule, along with a governess to homeschool the child's educational requirements.
Families are rarely able to fully articulate every nuance of a job they seek to fill. The reasons can vary, but staff must first know that no college or management course teaches principals (employers) to manage their personal lives. This reality makes seeing the proverbial forest through the trees exceedingly difficult. The next variable is that life is unpredictable. The day-to-day needs of running an office are relatively routine, but at home, once you get past breakfast, anything can happen – and it often does. Preferences, schedules, duties, interests, family members, and pets can all change in an instant. These top stressors can happen at any moment to anyone, and affluent families are not immune to such experiences, including accidents, illness, birth, death, job change, retirement, marriage, divorce, moving to a new home, and financial changes.
Start by looking at positions in your area that could be listed on your resume through transferrable skills. If becoming a nanny is your goal, start by working at a daycare facility and babysitting at night and on the weekends. If becoming a private chef interests you, start by working in a restaurant, then pick up small catering jobs on the side. Ask for references from everyone who can verify your abilities and experience.
There are entry-level education options for those wishing to become a housekeeper. And an *in-person butler training program is the foundation of any management-level position within private service. (*While online programs are available, full immersion into the culture, deportment, and atmosphere cannot be replicated online and should be considered "continuing education.")
Check out the sections below for role-specific recommendations. 
Butler + Household manager
Being a butler requires rigorous training and is today's launching point in estate management. While the history of the butler's title and duties is rooted in the formality of European royal estates, it has evolved to encompass household management, staffing, event planning, guest management, procurement, and more. 
Trained butlers hold an advantage over all other staff roles due to their specialized training specific to the private service industry. This training is the solid foundation that Private Service Professional (PSP) careers are built upon, allowing one to climb the "domestic ladder."
The International Butler Academy (TIBA) has earned the world's best Butler School title. TIBA answers the question How to become a butler?
A nanny is not a babysitter, who plays games, watches tv, chats with friends, and falls asleep on the job before the parents get home.
Being a nanny involves the daily support of a child's educational, emotional, mental, nutritional, physical, and social needs. In 2019, CNN reported What it takes to be a $200,000-a-year nanny.
Close protection officers typically transition out of the highest ranks of military service and those with law enforcement backgrounds. Licensing and training requirements vary by state and the needs of the employer. Private Security Professionals of America describes The Career Bodyguard.
Newborn Care Specialists (NCS) are highly trained nannies who support parents by assisting with sleep, feeding schedules, and infant development during the first months of life. Many NCS function as parent educators, teaching proper parenting and acceptable baby care techniques. Learn more from Newborn Care Solutions.